Participating museums nationwide, including the Condé-Charlotte Museum, to offer free admission September 21, 2019, with downloadable Museum Day ticket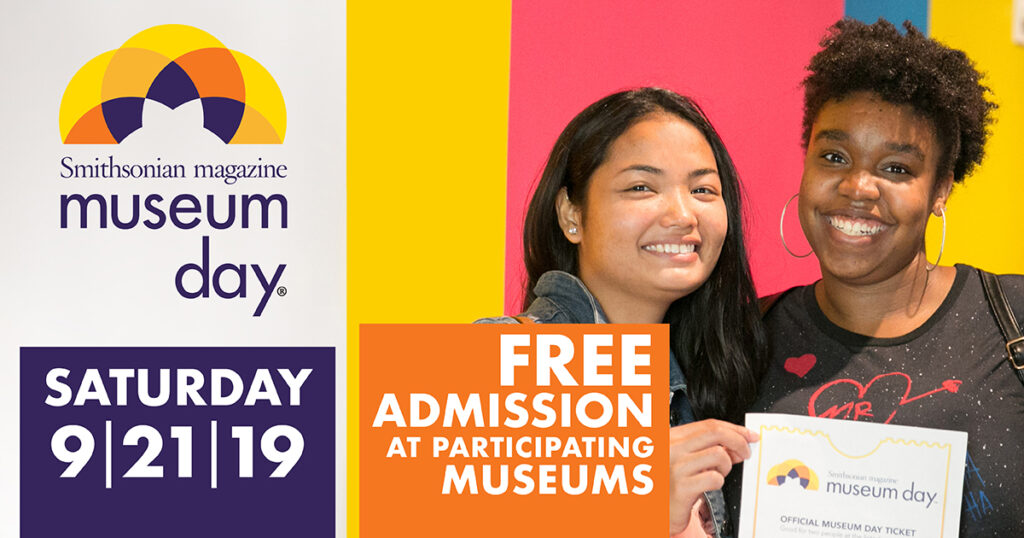 MOBILE, Ala. – Smithsonian magazine has designated Saturday, September 21, 2019 as the 15th Annual Museum Day, an initiative in which participating museums across the United States open their doors for free to those who download a branded ticket. The annual event allows museums – including the Condé-Charlotte Museum – zoos, and cultural centers from all 50 states to emulate the spirit of the Smithsonian Institution's Washington, D.C.-based facilities, which offer free admission every day.
Museum Day goes beyond getting visitors through museum doors; it acts as a springboard to empower and help advance the hopes and ambitions of the public, particularly school-aged children and those in underrepresented communities. It represents a national commitment to access, equity and inclusion.
Those wishing to attend and participate in Museum Day 2019 at the Condé-Charlotte Museum may visit Smithsonian.com/museumday to learn more and to download a Museum Day ticket. Each ticket grants the ticket holder and one guest free access to any participating museum on September 21, 2019. One ticket is permitted per e-mail address.
A list of participating museums, with will be continually updated, may be found at Smithsonian.com/museumday/search. More than 1,500 museums are expected to participate this year, the largest event of its kind.
CONTACT: Mary Lee Montgomery at 251.327.0451 or [email protected]
Read more about Museum Day in Travel and Leisure magazine at https://www.travelandleisure.com/blogs/museum-day-live-means-free-entry-to-1500-plus-museums
ABOUT SMITHSONIAN MEDIA
Smithsonian Media is comprised of its flagship publication Smithsonian magazine, Air & Space magazine, Smithsonian Books and the Smithsonian Media Digital Network. In addition, Smithsonian Media oversees the Smithsonian Institution's interest in the Smithsonian Channel, a joint venture between the Smithsonian Institution and CBS/Showtime. Smithsonian Media is a division of Smithsonian Enterprises, the revenue-generating business unit of the Smithsonian Institution. The Smithsonian Institution is the world's largest museum and research complex, consisting of 19 museums and galleries, the National Zoological Park, and nine research facilities. Approximately 30 million people from around the world visit the museums annually. (Smithsonian.com / si.edu) CONTACT: Erin Freilich, High 10 Media, at 212.913.9254 or [email protected]